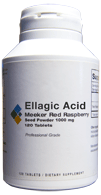 ELLAGIC ACID - red raspberry
Pharmaceutical grade
120 x 1000 mg tablets

Ellagic acid from red raspberry extract - Research suggests that red raspberries have significant anti-mutagenic properties. The biggest contribution to raspberries' antioxidant activity is the ellagitannins, a compound almost exclusive to the raspberry. Our Advanced Formula is exactly the same Meeker red-raspberry seed concentrate extract tested to have a potent antioxidant and free radical protection activity.

Ingredients:
Pure meeker red raspberry seed flour, cellulose binder, plant-based, GMO free, lactose free, no animal ingredients.

| | | |
| --- | --- | --- |
| Prices in US Dollars | | |
| One container: $49.95 each | | |
| Two containers: $47.95 each | | |
| Four containers: $46.50 each | | |
| Six containers: $41.50 each | | |
| Twelve containers: $25.50 each | | |